Rosehip tea is very healthy, refreshing and tasty. Nothing compares to homemade tea made from high quality hand-picked rose hips. The autumn rosehip shrubs are covered with ripe red-colored fruits. You only need to have some spare time, collect and dry them. Rose hips contain a lot of vitamin C and other minerals beneficial to our health. Rosehip tea strengthens immunity and is effective against fatigue. It is good to drink it preventively. If we have a cold or a flu, it will help us to recover faster.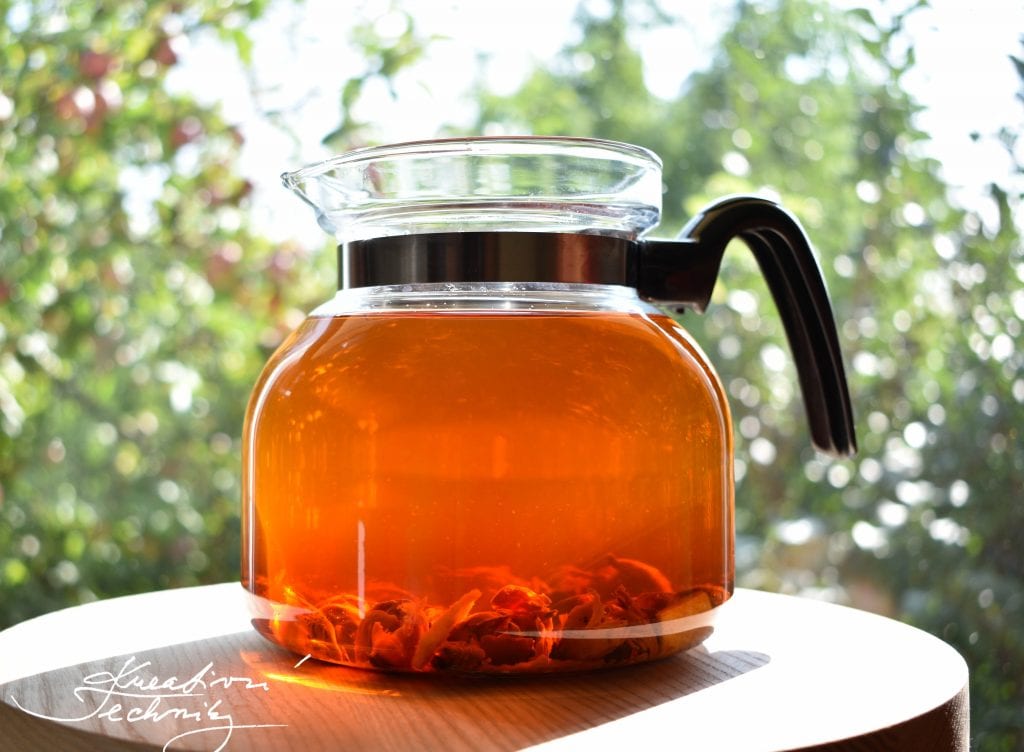 We need to collect and dry the rosehips first. We collect only quality fruits in a clean place. Rose hips must not be rotten, frozen or otherwise damaged. If we do not have the time, the opportunity or lack of taste, we can buy whole or crushed dried darts.

Collecting rosehips
Rosehips for homemade rosehip tea are usually collected in late September and early October. They should be fully ripe by this time. Ripe rosehips have a beautiful red colour and are hard to the touch. When halved, we see red-orange pulp and inside there are yellow seeds with fine, prickly hair inside. We do not collect softened, damaged or brownish fruits. It depends where we collect the arrows. Especially at higher altitudes we must be careful that the rosehips do not freeze. Frozen fruits are softened and no longer suitable for dying.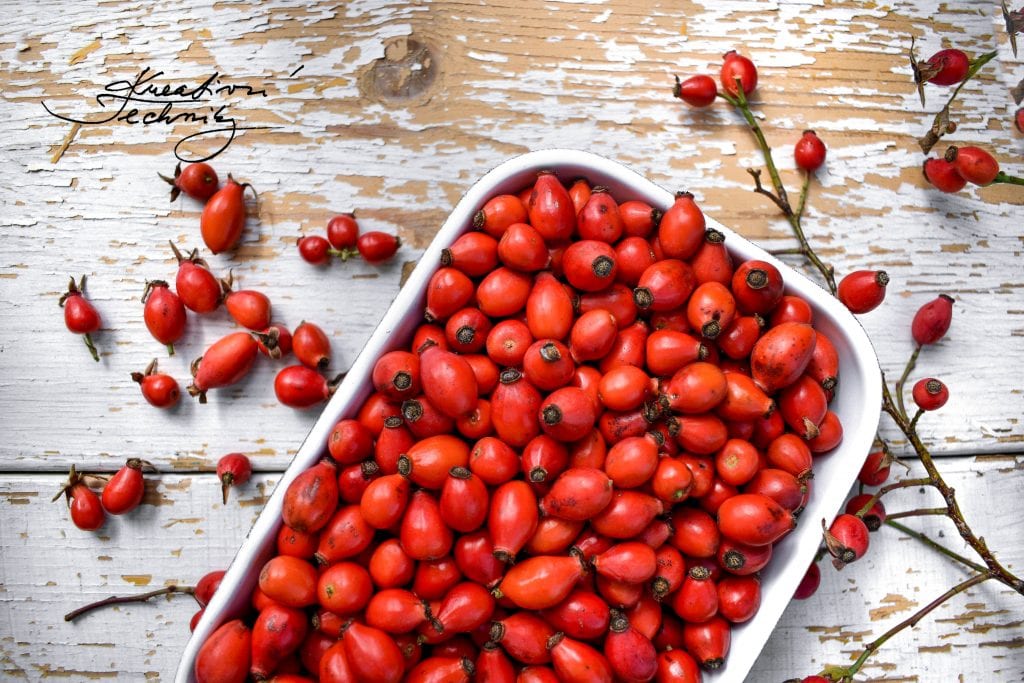 It is good to wear leather gloves, take scissors and older clothes to collect darts, as rosehips have many thorns. We collect fruits in a basket, cloth or paper bag. We do not put them in plastic so that they do not evaporate.

We pick the collected rosehips once more. We remove all twigs, leaves, brownish, moldy, softened and otherwise damaged fruits. Wash the rosehips thoroughly and dry them. We will get rid of the stalks and the remains of the petals. Rosehips are dried whole, sliced or chopped into smaller pieces. We dry them in half. It's more work, but we're sure they're not moldy inside. It dries faster and looks nice.

Drying rosehips
The faster the rosehips dry, the more beneficial substances remain in them. We can dry them in a dryer, in an half open oven, or freely in a warm pace (not in the sun). Care should be taken in the oven to avoid burning them. Set the temperature to a maximum of 50°C and leave it half open. The well dried rosehips have a beautiful red colour and can be easily broken or crushed.
Storing rosehips
The rosehips are stored in a closed container in a dark and dry place. The ideal storage period in one year. This is until the next harvest.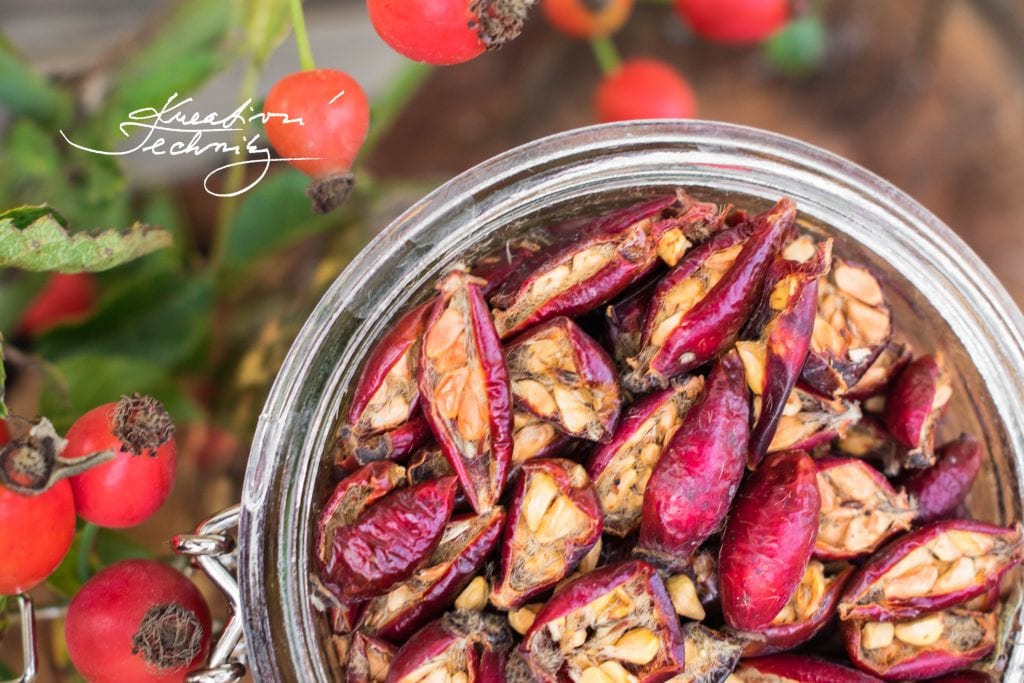 Rosehip tea recipe
Do you know how to prepare a great rosehip tea? Never brew the rosehip tea!

If we want to keep the maximum amount of vitamins in the tea, the most gentle method of preparation is maceration. We dry the rosehips, soak them in cold water and leave them to macerate overnight. Macerating means cold steeping. The recommended dose is 2 tablespoons of pulp per liter of water. Before consumption, heat the entire infusion slowly to about 70°C. In no case should we let the tea go through boiling as we would most of the vitamins. Pour the finished tea through a thick sieve, cloth or paper filter.

There is nothing better than a home-made rosehip tea from hand-picked and dried rosehips. The tea itself has a pleasantly sour taste, tastes both children and adults. You can flavour it with honey, add ginger or a little lemon. Some prefer the tea alone, some prefer the flavoured version. We can drink it warm or cold.

Rosehip tea made of fresh rosehips
Rosehip tea made of fresh rosehips is as tasty and healthy as it is dried. We can only enjoy it for a short time until we can collect quality fresh rosehips.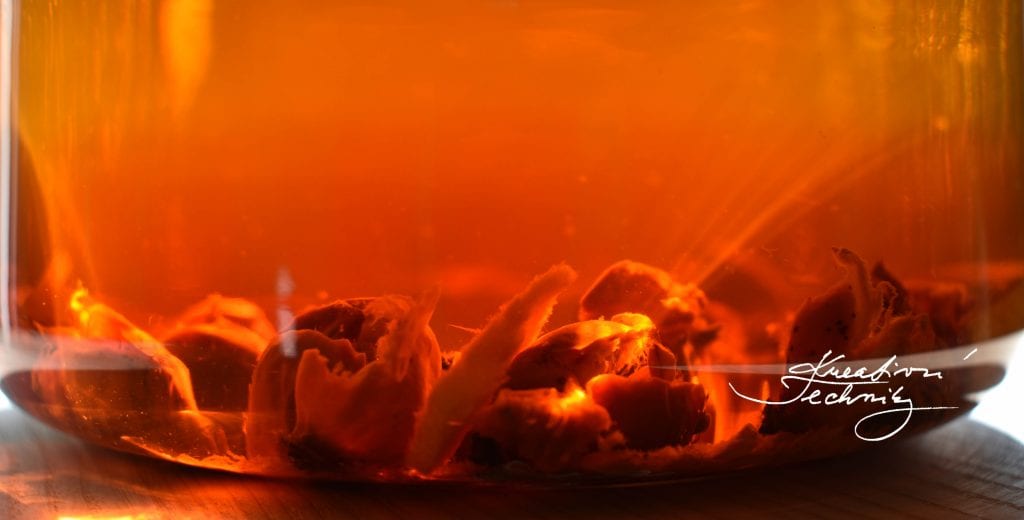 The preparation is the same as the previous recipe. The rosehips are first taken, washed and dried.

Halve or crush the freshly collected rosehips. Pour in cold water and let it macerate for 12 hours. The recommended dose is 20 rosehips per ¼ l of water. Before consuming the infusion, heat to about 70 °C, stop and leave to steep for 10 more minutes. Fresh rosehip tea, as well as dried rosehip tea, must not be boiled. We would lose most of the vitamins. Pour the finished tea through a thick sieve, cloth or paper filter.

We drink the rosehip tea alone of flavoured, warm and cold. Take a look at our tasty home-made recipes and instructions and ideas for autumn decor from rosehips and other materials.