Wreath of chestnuts is very decorative. During the autumn walk we collected moss and chestnuts, which fall from the trees on their own. Chestnuts belong to the autumn, each of us liked to collect them from a young age. They are a great and traditional material for autumn creation. Today we made a beautiful autumn wreath of chestnuts and moss. A wreath of chestnuts will create a pleasant autumn atmosphere. It can be used indoors and outdoors. Everyone is interested in its rich colors. The shiny, dark brown chestnuts beautifully complement the fresh green color of moss.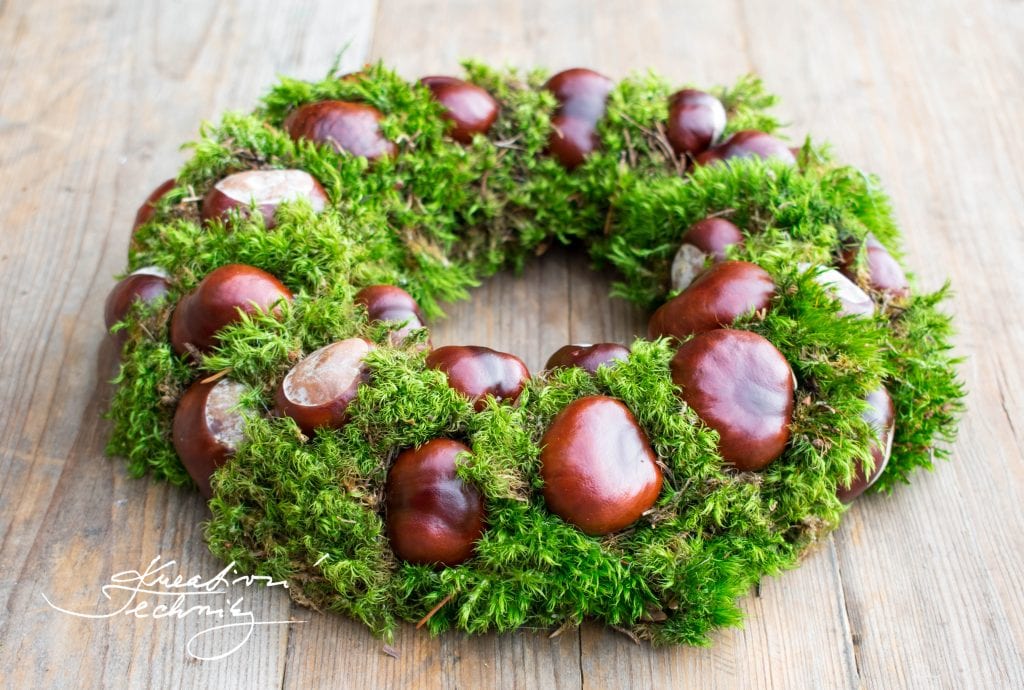 Used Material
chestnuts
moss
straw wreath corpus
melting gun
scissors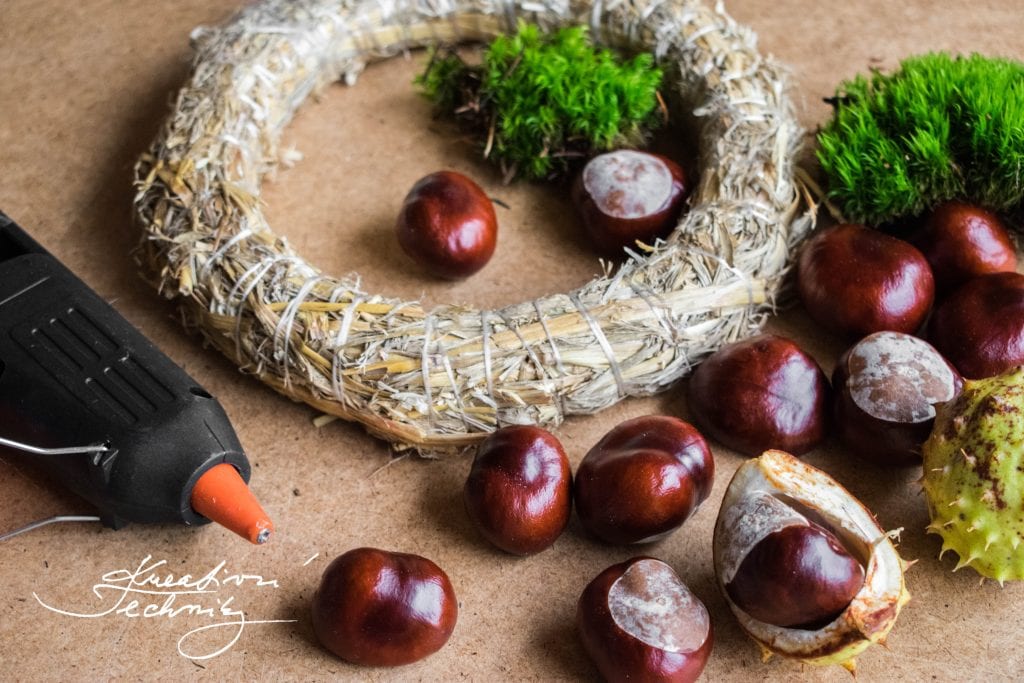 Instructions
Even children can make the chestnut autumn wreath, they only need to be able to use the melting gun safely. The making of the wreath is easy and does not take a long time. Choose the size of the corpus according to your liking. Prepare enough chestnuts and moss to have by your hand, enough so it covers the whole corpus and we can begin.

This autumn wreath is made out of a 25 cm big corpus.
Warm up the melting gun and glue each chestnut and piece of moss to the corpus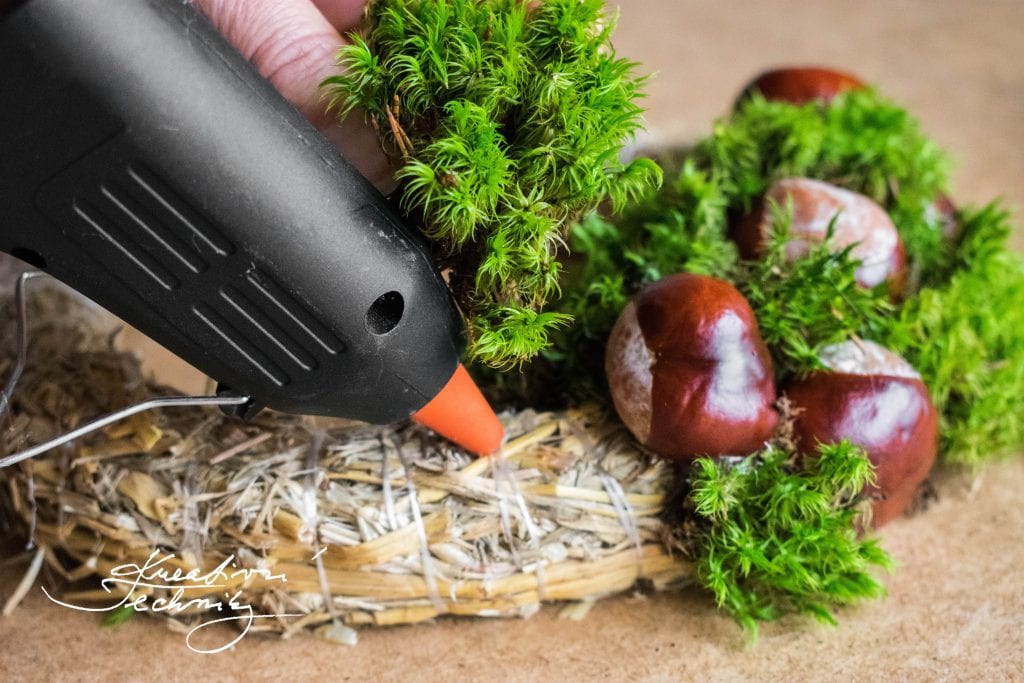 Each chestnut is surrounded by pieces of moss.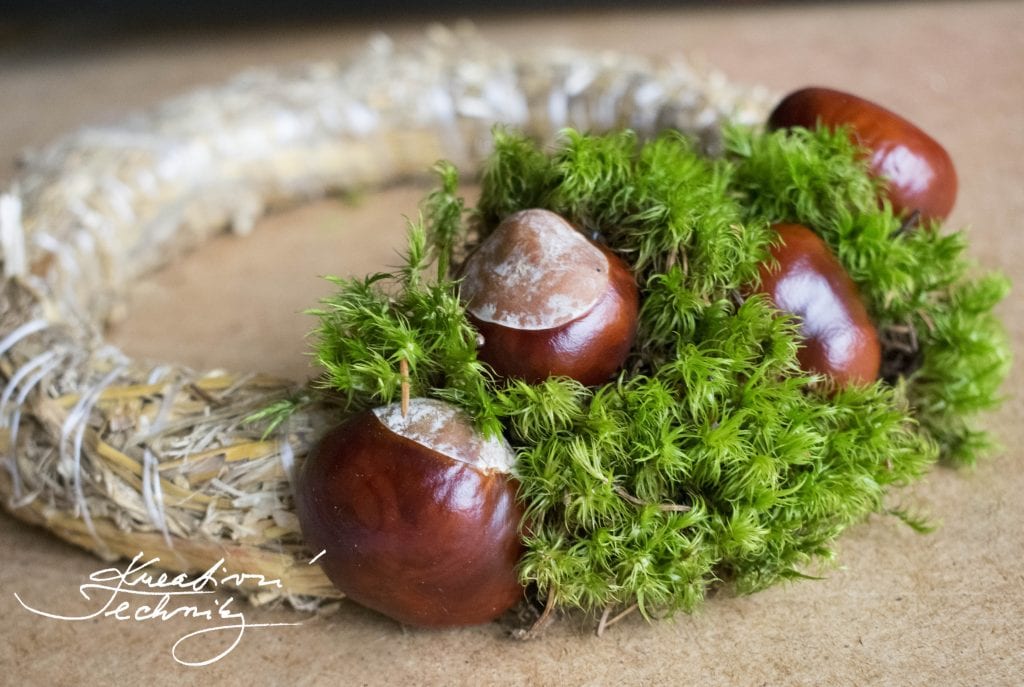 Moss is easier to work with when we cut it from below. Take a piece of moss and squeeze it lightly from the side. Cut the roots and overlapping pieces at the bottom and glue them. Press it against the already glued chestnut. It will hold better on the wreath and will not fall out spontaneously. Irregularly rotate the pieces of moss with chestnuts and always press them nicely together to make the whole wreath pretty dense and compact.

Autumn wreath of chestnuts and moss is very decorative and can beautifully decorate our house, apartment or garden. If we have enough chestnuts, we can make a pure chestnut wreath in the same way. But we chose a combination with moss, its fresh green color complements the chestnuts beautifully. The finished chestnut wreath can be used as a wreath on a door or table, or as a basis for making other autumn decorations.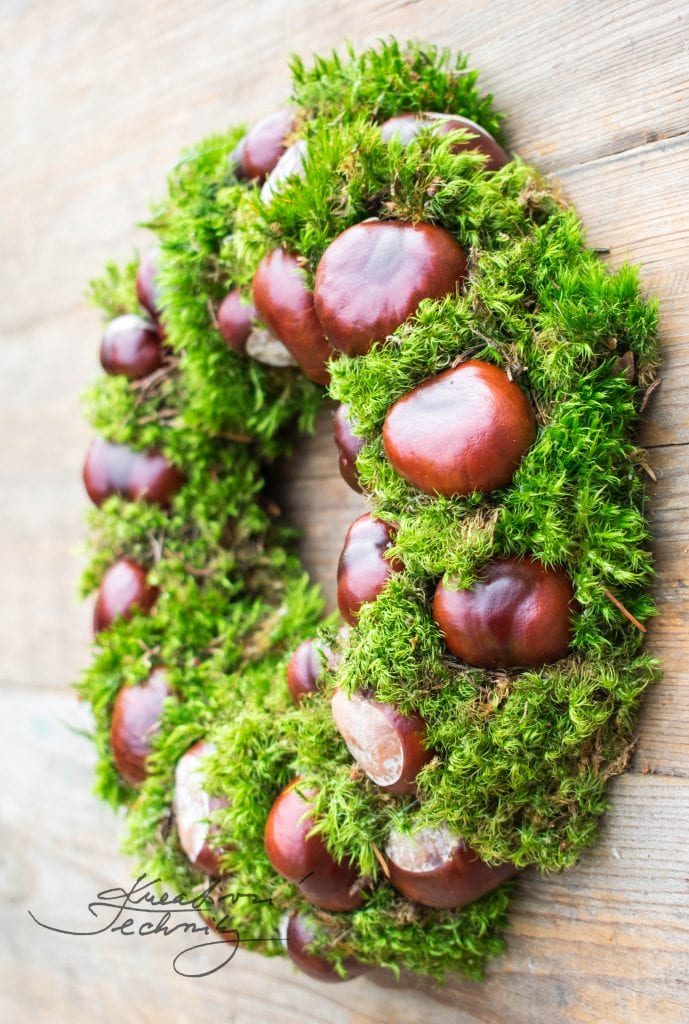 Are you looking for inspiration for other chestnut products, wreaths and autumn decorations? You can inspire yourself and make your autumn decoration according to our original instructions and ideas.