Autumn flower box. Looking for advice and ideas for autumn decorations? Are you thinking about decorating autumn flower boxes in an original way? What to put in the box in the fall? You can be inspired by our ideas and instructions for original autumn decorations. It is the end of summer and so come the autumn decorations and the creation of decorations. Nature offers us a wealth of materials for autumn creation. In our garden or during autumn walks we can find everything necessary for creative autumn creation. We have prepared some tips on what and how to use for interesting autumn flower boxes.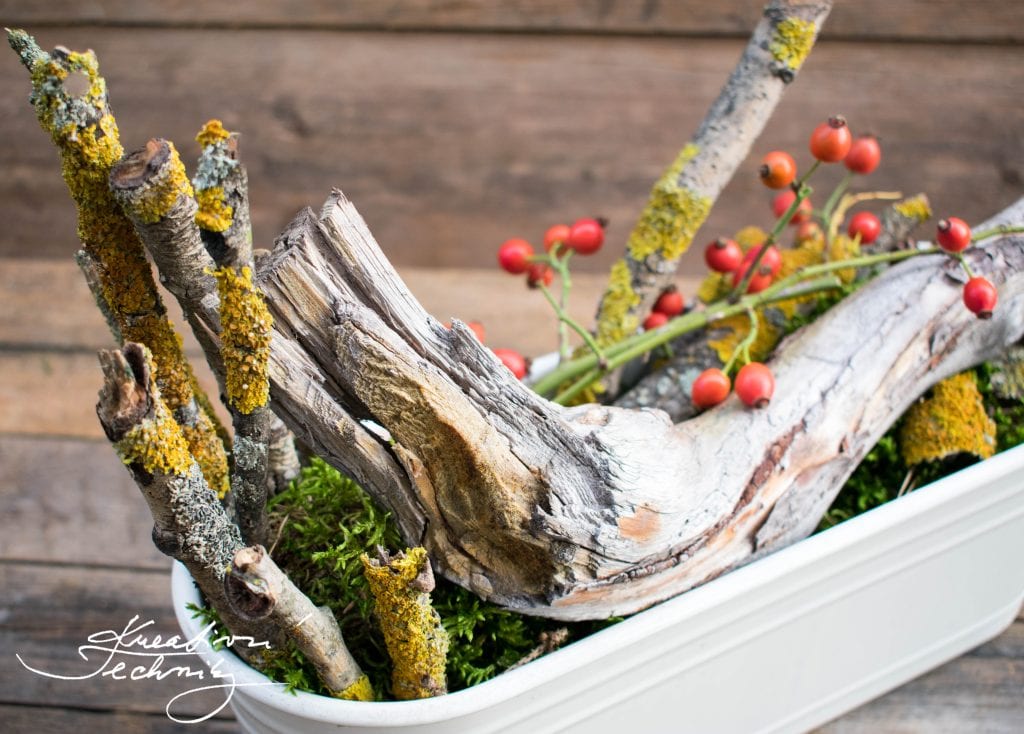 What to put in the boxes in the fall?
We can use fresh beautifully colored autumn flowers for autumn flower boxes. Autumn flower boxes with heather are beautiful, we can also use chrysanthemums, ornamental cabbage and many other plants. In the shop we can choose from many types and colors.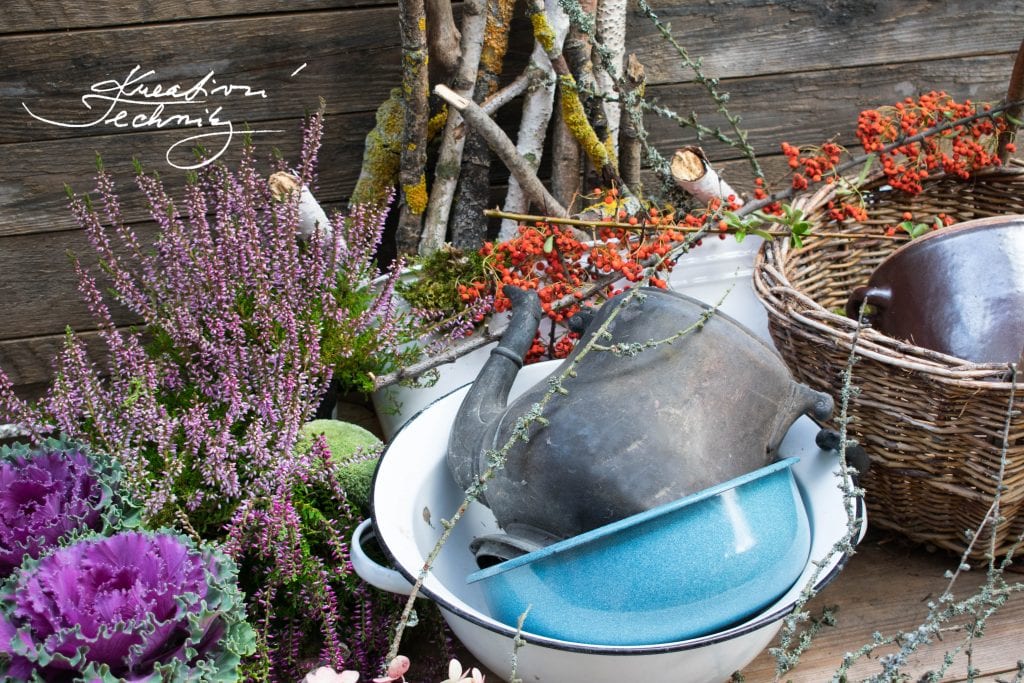 If we do not want to spend money on flowers, we will use all kinds of fruits from trees and shrubs, branches, colored leaves, mosses and other natural materials. Beautiful and very decorative are rosehips, sloes, rowan, sea-buckthorn and many others.
In the gardens you will often find orange colored tomatillos, heather, grass, ivy and many other beautiful decorative plants. If we exchange our "catches" and cultivations with friends, we will get another interesting material for our autumn creation easily and free of charge.
What decoration to choose for flower boxes?
If you don't have a free classic box, don't worry. We do not decorate only classic autumn flower boxes. For the production of autumn decorations we can use other containers. We try to upcycle different, unused containers of interesting appearance.
We arranged the autumn decorations in a wicker basket, no longer used forms for baking or an old wooden drawer. We decorated the autumn boxes and all other containers with available natural materials.
Autumn box with heather

We created an autumn box with flowering heather and decorative pieces of wood, to which we added green moss.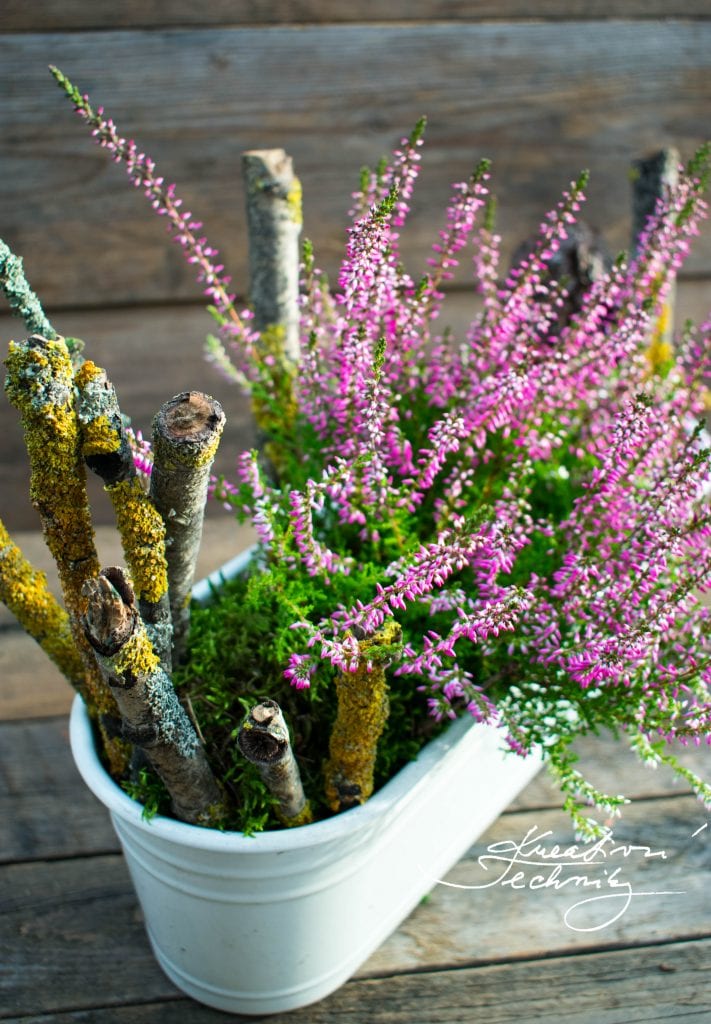 Autumn box decorated with tiny flowering spurge looks interesting and very delicate, which is complemented by moss and a decorative piece of wood. This decoration can only be outdoors until the first frost. The spurge is not frost-resistant. Before frost, this decoration should be moved to the interior.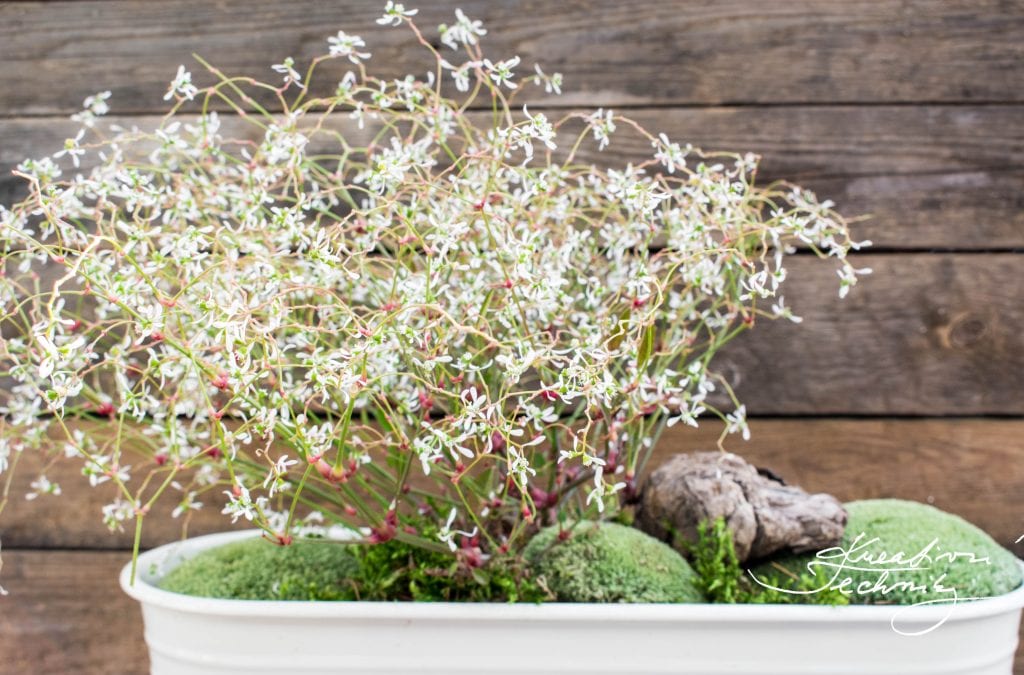 Autumn box decorated with wood
This autumn box shows that beautiful decorations can be made without flowering plants. All we need is a nice box, interesting pieces of old wood and moss. If we want to revive the decoration, we can complement the decoration with a twig of rosehip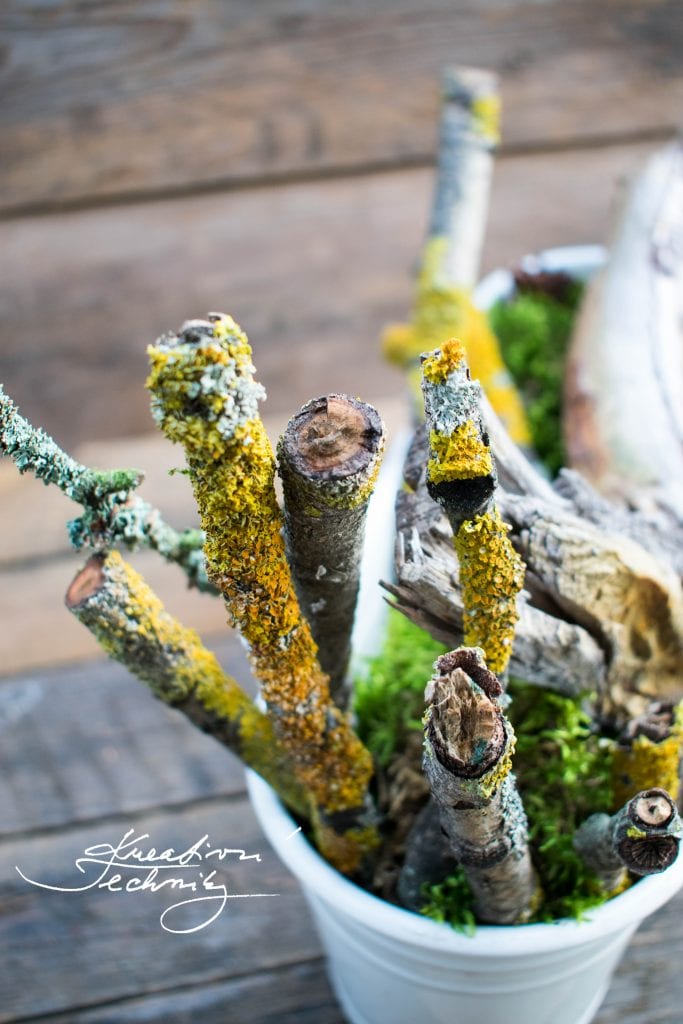 Autumn decoration in an old drawer
Here we used an old drawer instead of a box. We arranged a flowering heather into it, which complements the decorative cabbage in color. The whole decoration is completed with moss. In the wooden drawer it is necessary to pre-insert the impermeable foil so that we can water the flowers without any problems.
Autumn decoration in a wicker basket
We decorated the autumn basket with two kinds of flowering heather, which we added with chrysanthemum and ivy. In the wicker basket it is necessary to put the impermeable foil in advance so that we can water the flowers without any problems.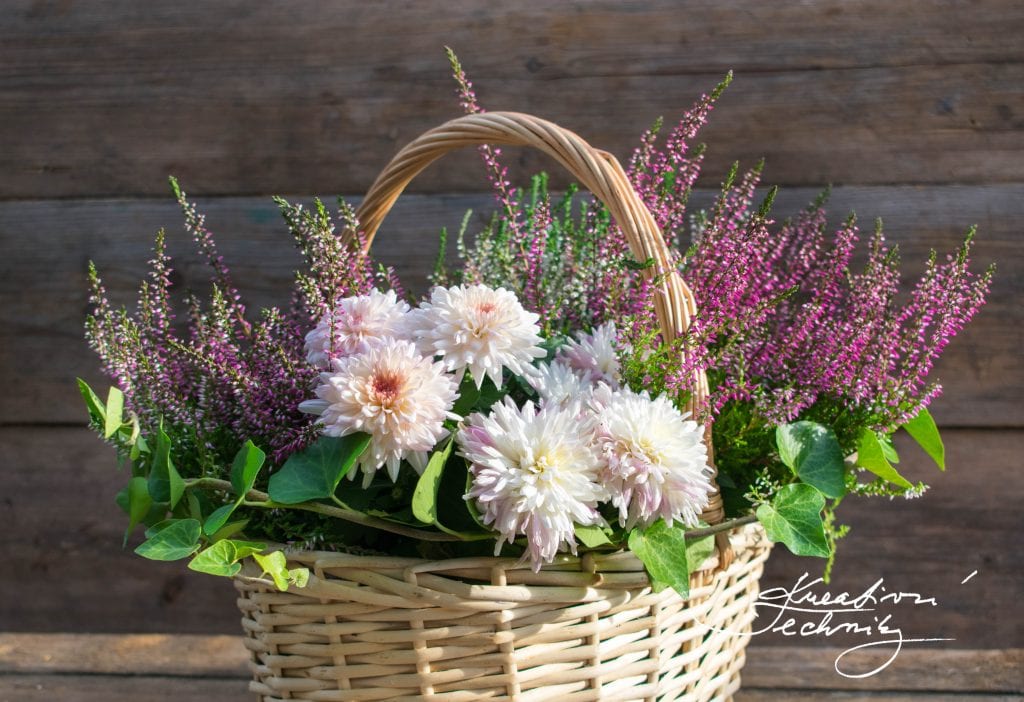 Decoration with flowering heather
Autumn decoration with flowering heather set in an old unused cake form.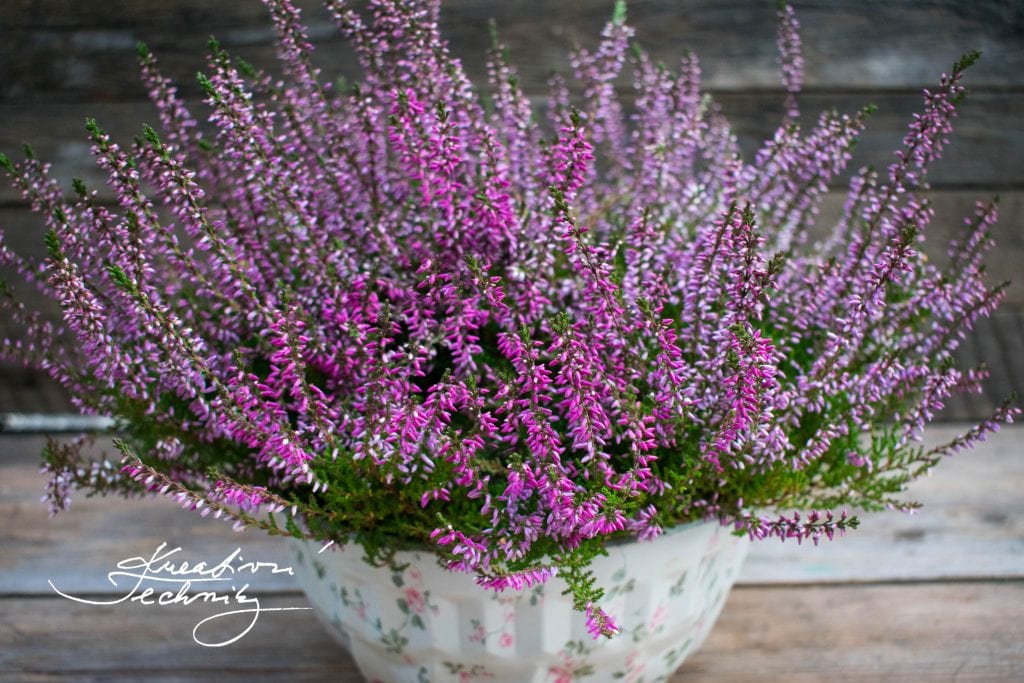 If we don't want to spend every year on new seedlings, we have to learn to grow heather and keep it for longer.
Autumn box with pumpkins
Autumn box decorated with ornamental pumpkins and quince. This autumn decoration is arranged on hay in an old baking form.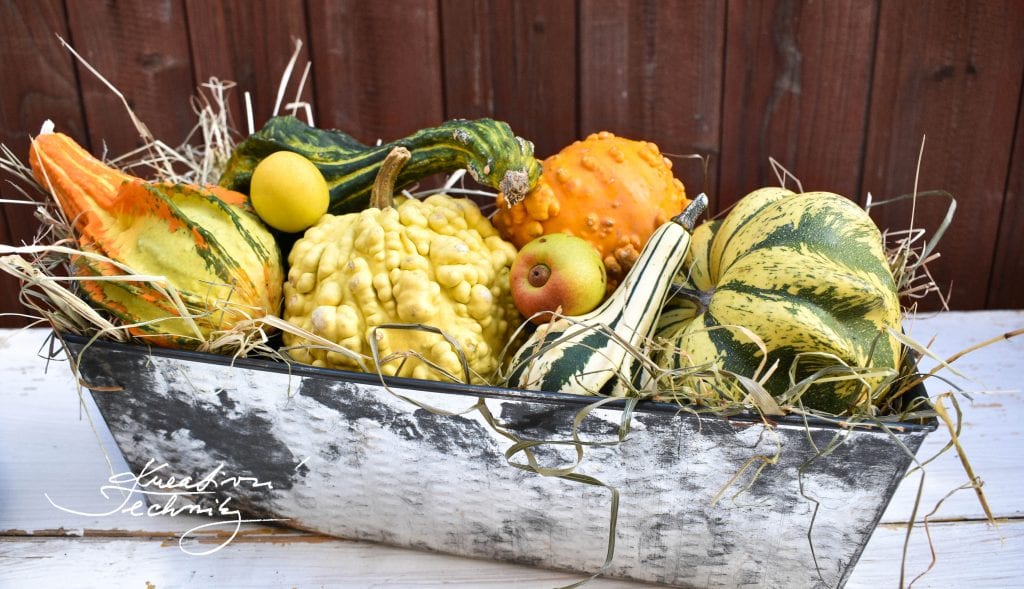 You can find more tutorials, ideas and inspiration for autumn decorations here.