Focaccia is an excellent Italian bread. It is great for a snack, we bake it for a picnic, as a side dish to vegetable salads or grilled meat and vegetables. This Italian focaccia is very tasty. Dried tomatoes, cheese, olives and rosemary give it a great taste and aroma.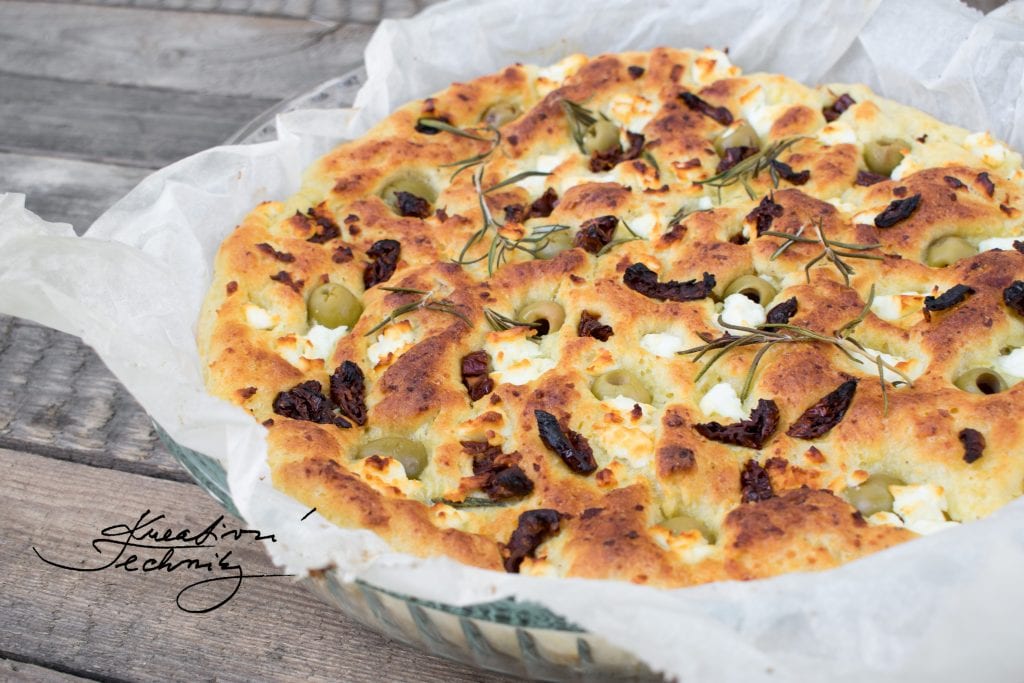 Focaccia is baked from a fine potato dough. It's actually a very tasty savory pie. Even beginners can easily master the recipe. It is only necessary to set aside about 1 3/4 hour for the preparation, because it is a yeast dough.
Ingredients
300 g potatoes
250 – 300 g plain Flour
4 tablespoons extra virgin olive oil
2 cloves of garlic
salt
pepper
yeast 20 g
200 – 250 ml of milk
pinch of sugar
dried tomatoes
olives
200 g fresh sheep or goat feta cheese
rosemary (fresh or dried)
Focaccia bread recipe
We cook all-purpose jacket potatoes.
We will prepare the yeast and the baking form.
Put a little lukewarm milk and a pinch of sugar and crushed yeast in a bowl. Let the leaven rise in a warm place.
Smear the mold or line it with baking paper.
Peel the boiled potatoes while they are still hot. We mash them finely and salt them. It is best to use a potato press to squeeze. Add flour, the rest of the milk, mashed garlic, olive oil and make a soft dough.
Divide the finished dough evenly into the mold. We only lightly spread the dough, we do not press or smooth it out too much. The finished focaccia then looks beautifully rustic. Cover the mold with a cloth and leave it to rise in a warm place.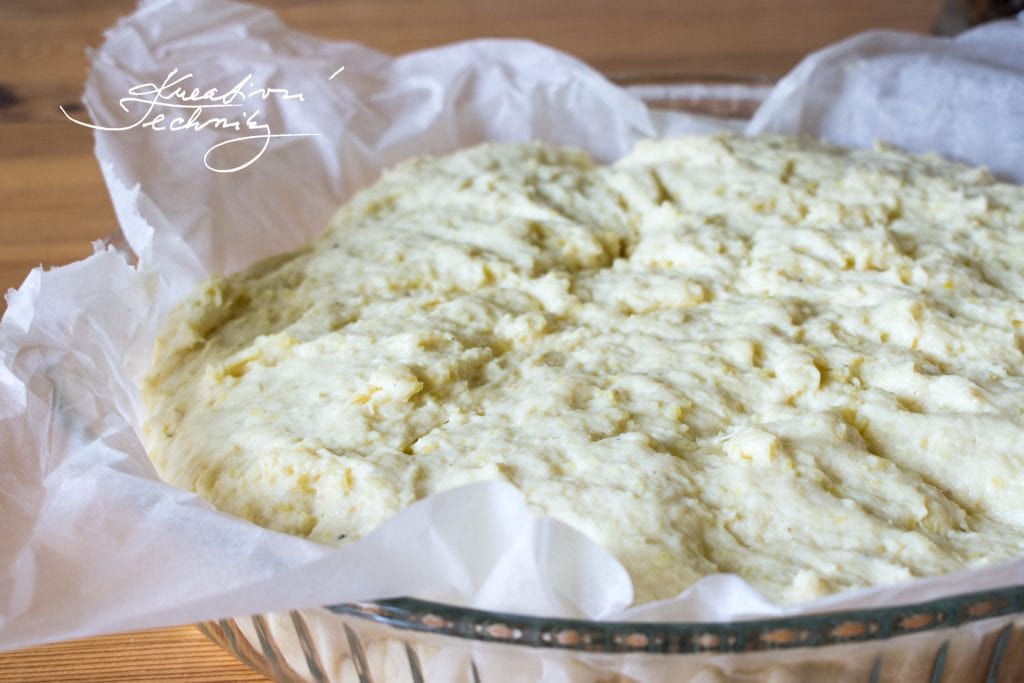 The dough will rise beautifully in the form. Make holes with your fingers into the leavened dough, insert olives, pieces of cheese, dried tomatoes and put rosemary sprigs between them. Gently press everything into the dough.
Let the decorated focaccia rise for a few more minutes.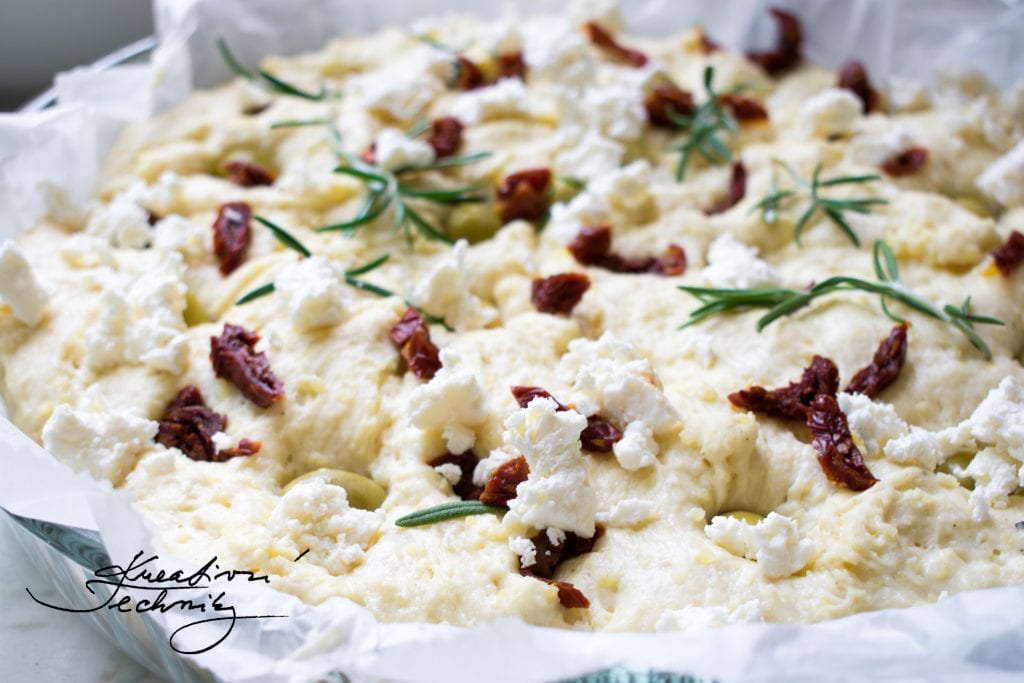 Lightly drizzle the whole focaccia with olive oil and put it in the oven.
Bake until golden in an oven heated to 200 °C for about 45 minutes.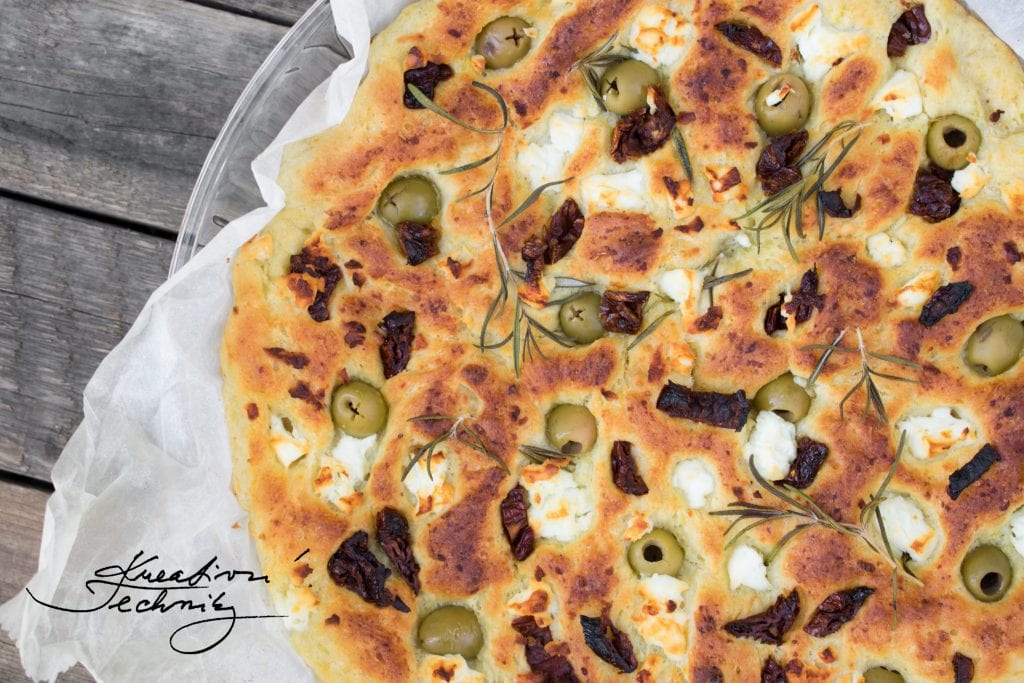 The finished focaccia looks beautiful and tastes great.
Did you enjoy it? Also try our other homemade recipes.
Are you creating and looking for inspiration and original tutorials? Here are our tutorials on DIY, crochet and knitting.