Instructions for non-traditional Christmas trees made of natural materials that can be used as an outdoor decoration in front of the house, the door or the apartment. Handmade trees help us create a pleasant Christmas atmosphere right at the entrance to the house or apartment. It is up to us what material we choose for their production. Here are several types of materials from which it is possible to make a similar Christmas decoration.
Tree made of the branches of larch, blueberry and buxus.

Tree made of rosehip branches
Similar Christmas trees can be made from various available natural products. We have cut wild rose hips, larch overgrown with lichen, fallen blueberry twigs and buxus and small rose twigs in the garden. They are not the only materials that can be used to create trees. Just look around and choose yours. If you prefer classics, you will choose conifer twigs to make similar decorations.

We create these Christmas trees every year. We create them for ourselves and traditionally donate them to our friends who will always appreciate this gift.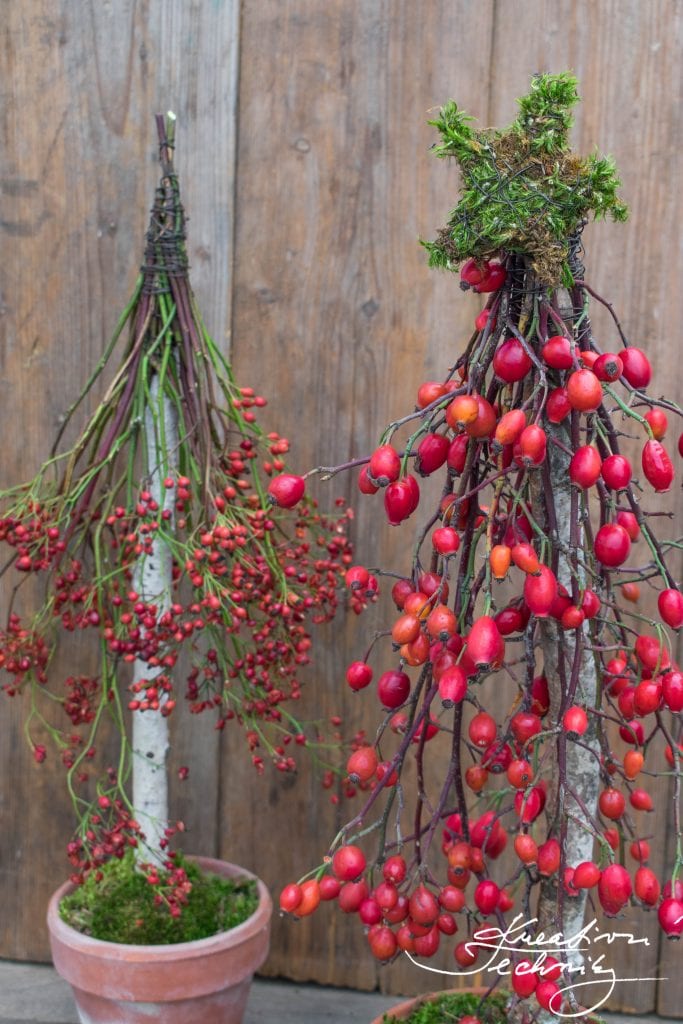 Used Material:
wooden stick approx. 40 – 60 cm, diameter approx. 2 – 3 cm
natural twigs approx. 20 – 40 cm
floristic wire
flower pot
arranging material
moss
pliers
sharp knife
Instructions:
Fill the inside of the flowerpot with arranging material.

Carefully cut the wooden stick at both ends with a knife, to make it pointy.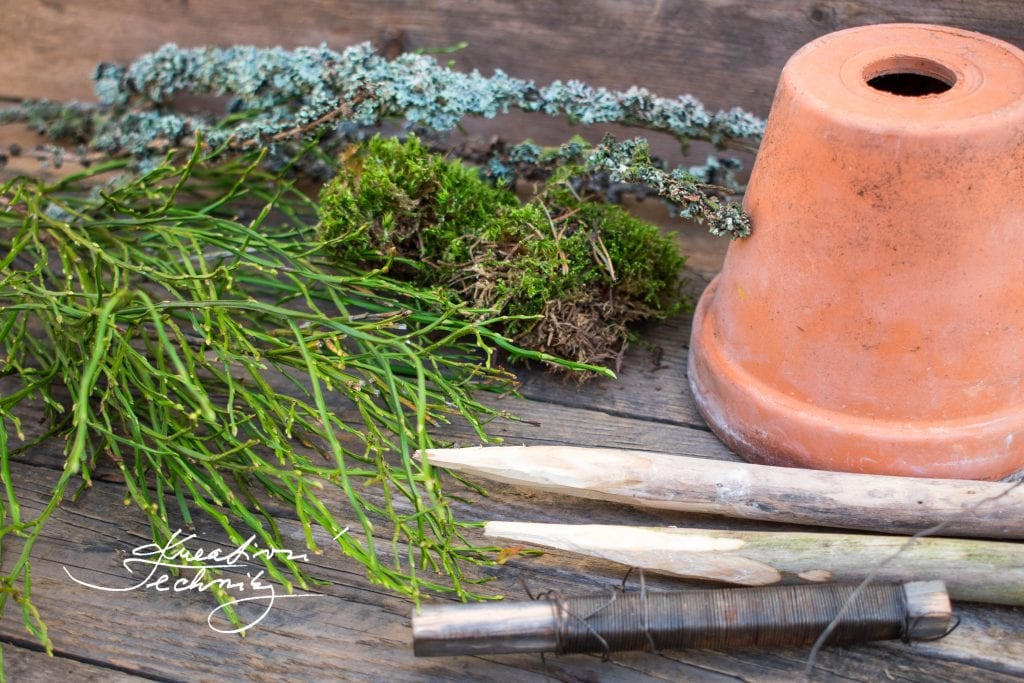 We chose contrasting white birch wood for Christmas trees made of red rosehips, peeled pine branches for green trees and driftwood for silver larch. You can use a piece of an old branch that you will find.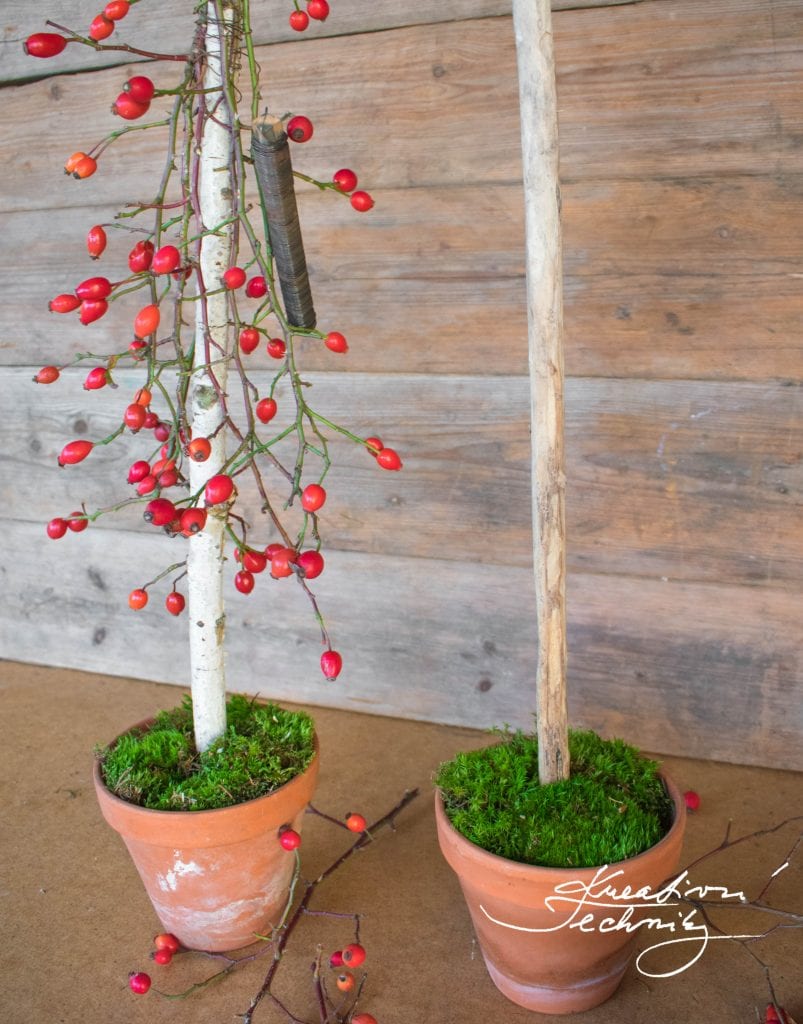 We begin to wire the twigs on the thinner pointed end.

We lay them evenly all around. First we attach longer twigs, then gradually add shorter ones.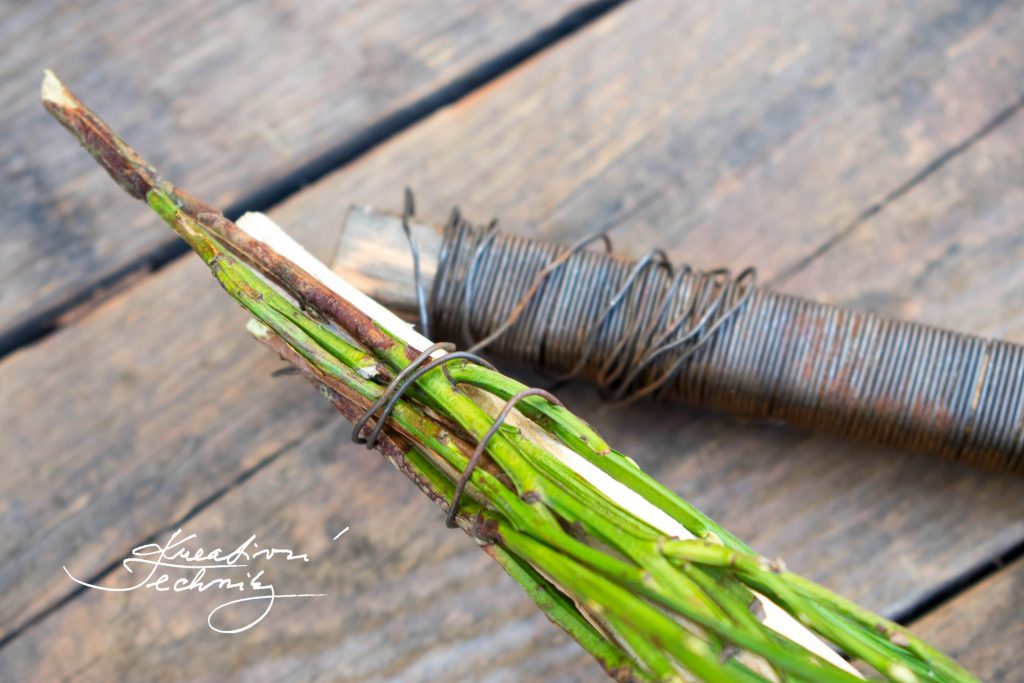 Each layer is always moved a little higher and shapes the tip of the tree.

Finally, wrap the entire tip once again 7 – 10 cm in length and tighten it firmly. This will strengthen and shape the tip of the tree.

Stick the finished Christmas tree into the flower pot into the arranging material.

Finally, decorate the surface of the pot with moss.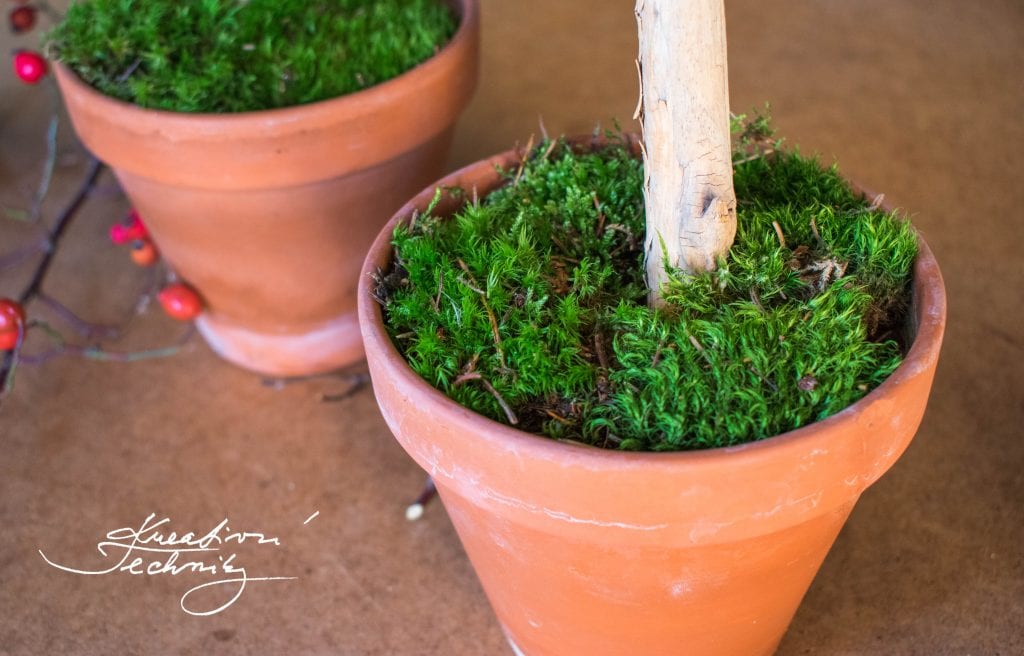 We create one tree after another in the same way.

The making is not complicated. Even beginners can make similar Christmas trees. Just try it. Finally, you can flaunt beautiful Christmas decorations of your own production.

Check out our other tutorials and ideas for Christmas decorations.