Last minute golden Advent wreath. Have you missed a classic advent wreath? We bring you some inspiration on how to do it. Search in a wardrobe or box with decoration and you will definitely come up with something. This modern wreath is very decorative and ready to go. It is crafted in a festive gold white color combination. Advent wreaths do not always have a solid corpus. We can arrange them in interesting containers of various shapes and sizes. It depends on what style of decoration we prefer. Whether we want decoration entirely traditional or modern and original.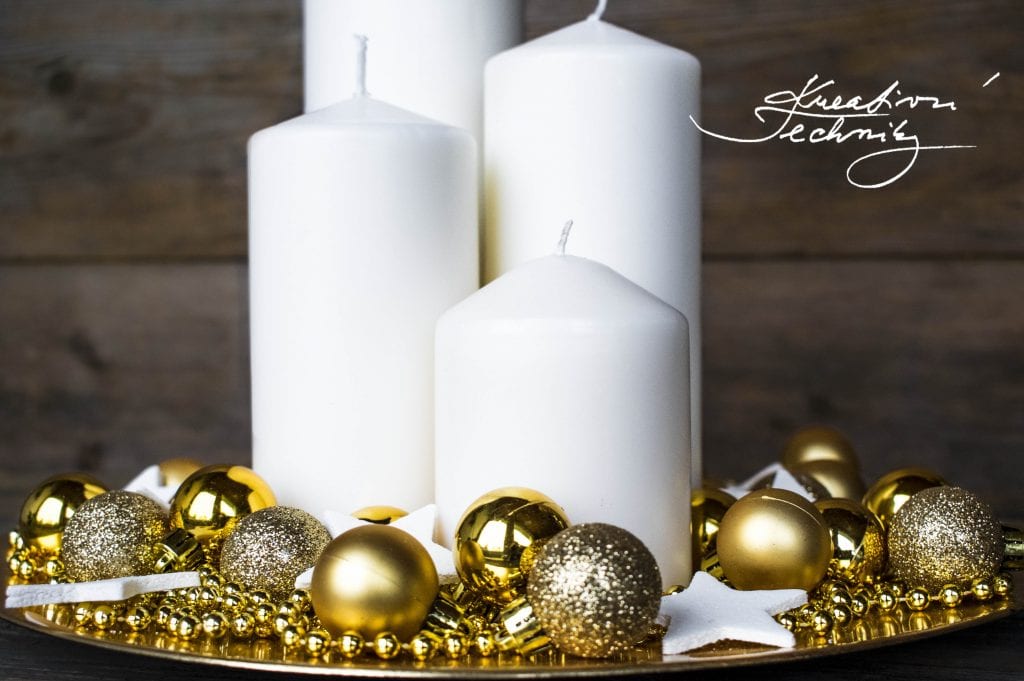 If you are looking for an unusual Advent wreath on the festive table, this is a great choice. You don't have to do anything else. Just find a decorative plate or tray, small Christmas decorations, four candles and arrange a beautiful Advent decoration on the festive table. The golden color creates a pleasant festive atmosphere in the room.
Used Material:
golden plate
advent candles
golden bead chain
golden christmas decoration
stars made of homemade self-hardening material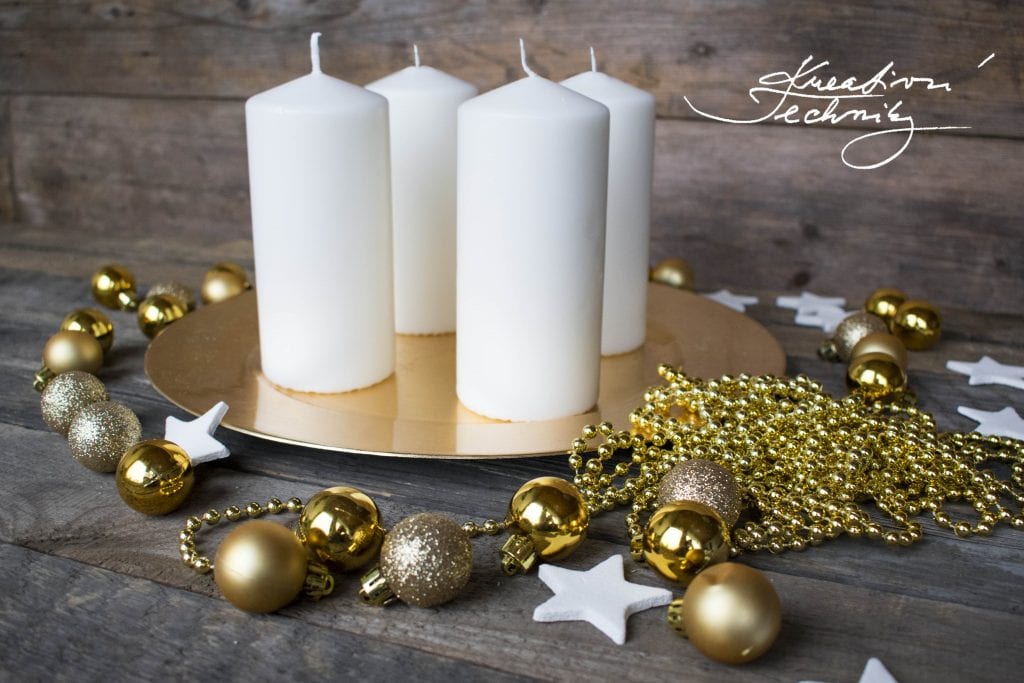 Instructions:
The golden advent wreath is arranged on a large gold plate.

First place the candles on the plate. They can be placed in a square, semicircle or in the centre. It depends on what candles are available and what type of candle arrangement we like, whether they are the same size or have different heights.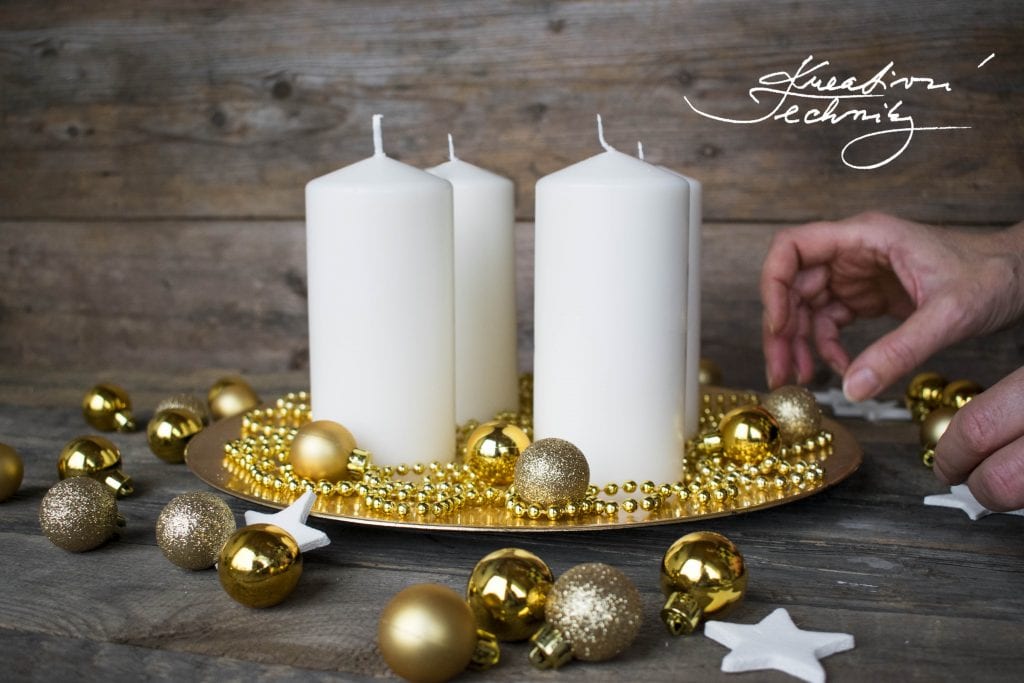 In the following pictures we offer you both possibilities. You can choose which one is right for you.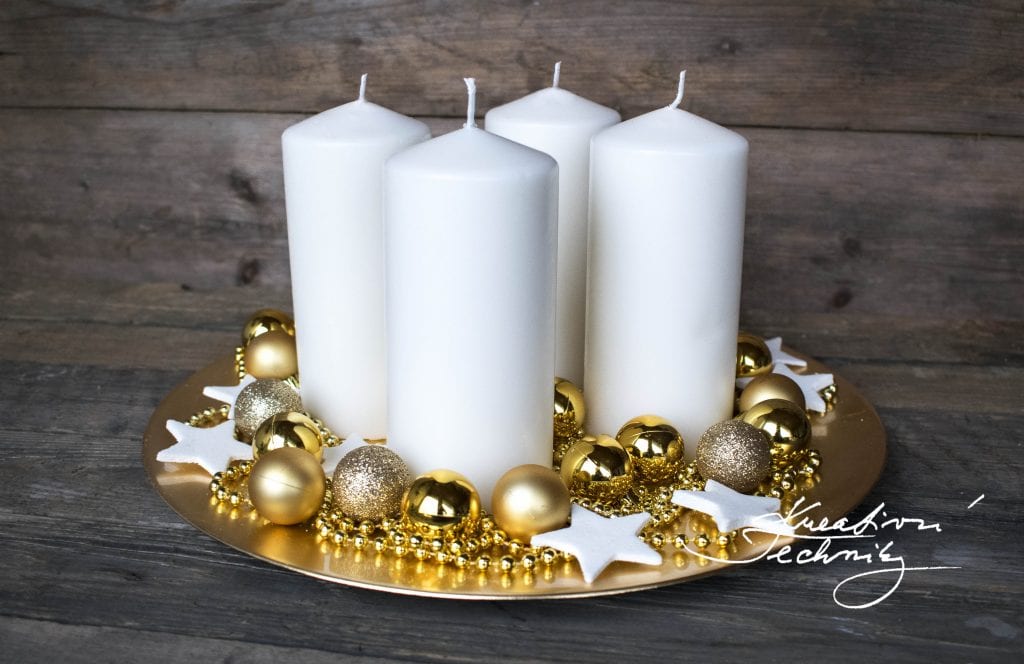 Place the candles and add a chain of small beads, however you like it. Finally, fill the empty spaces with golden Christmas decorations.

In addition, we used snow-white stars made of homemade self-hardening material to complete the Advent circle.

It looks complicated, but in fact the stars are done quite quickly. It's a little thing that kids can make and get involved in Christmas preparations.

Make this Christmas really nice. Get inspired by our Christmas and Christmas tutorials.

You can also try our homemade Christmas recipes. For example, Christmas gingerbread.