If you do not have a Advent wreath yet, you can get inspired by our suggestions. We listed some countryside style advent wreath ideas. This time, instead of the basic corpus, we chose a baking ceramic form to make these Advent decorations. This is one of the ways to make an Advent wreath at the last minute easily and quickly. We quickly decorated the form with easily available materials in several colour variations.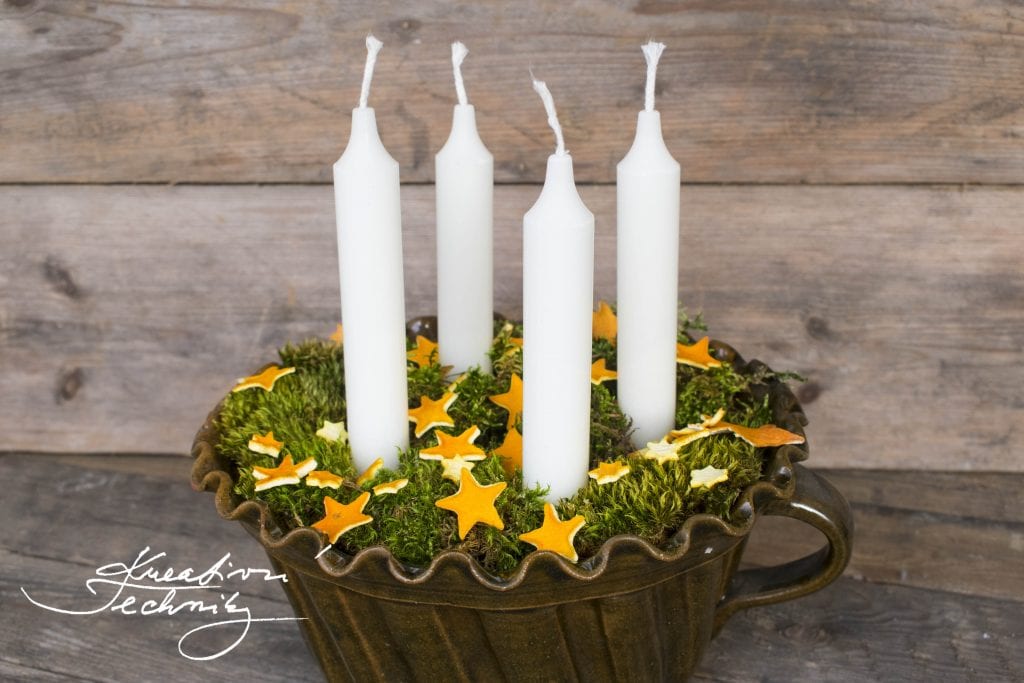 The cake form can be found in almost every kitchen and will be used for making countryside style decorations. A similar Advent decoration can be used to decorate the holiday table at home and at the cottage.
Material
Here is the basic material that was used for all the variants shown. For each of the wreaths we used a few more decorating details.
cake baking form
arranging material or sand
four candles
aluminum foil
The decoration is based on a cake baking form. Fill it with arranging material or sand. If we want to use it in the future, we will lay out the inside of the form with aluminium foil first. Wrap each individual candles on the end, just to make sure.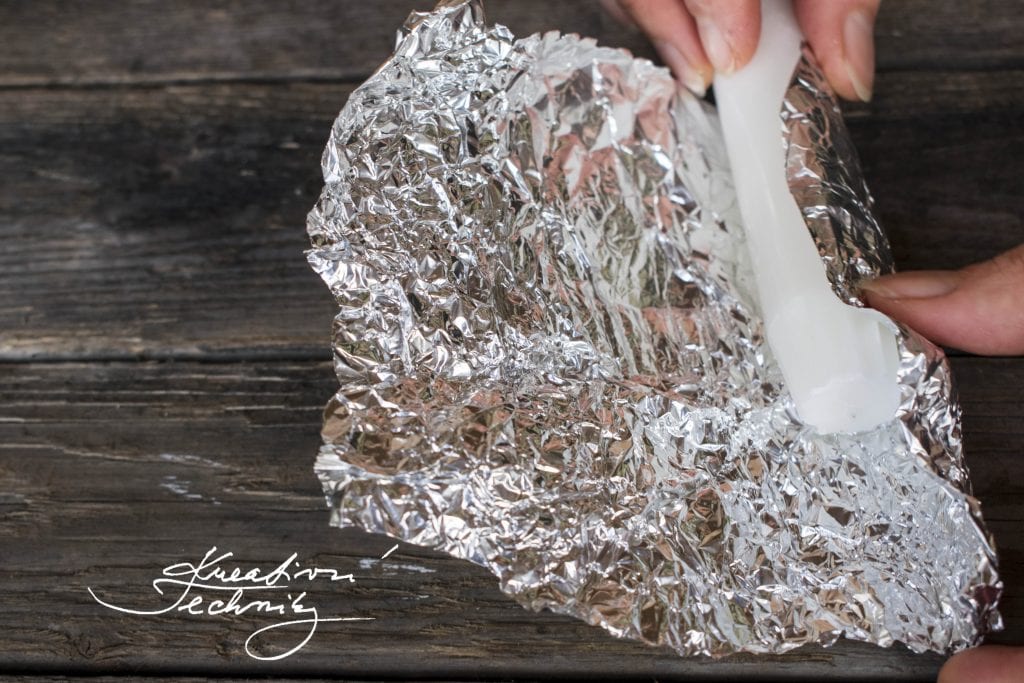 At the bottom, we will create "cups" made of aluminum foil around the candle ends. It is the part that will be tucked in arranging material or sand, and a small bit will be in contact with the decorations.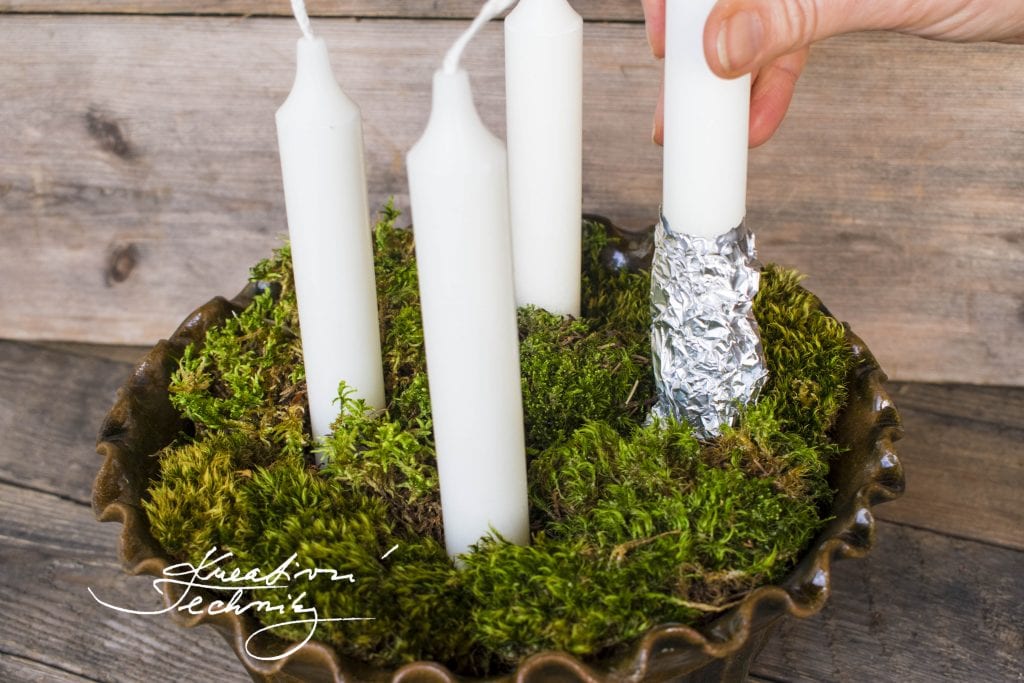 Place one candle into each individual quadrant and the base for the decoration is ready. Finish it with a few tweaks to your liking. No need to do anything too complicated. We can easily make the wreath into a beautiful decoration.
Advent wreath Ideas: cold porcelain/clay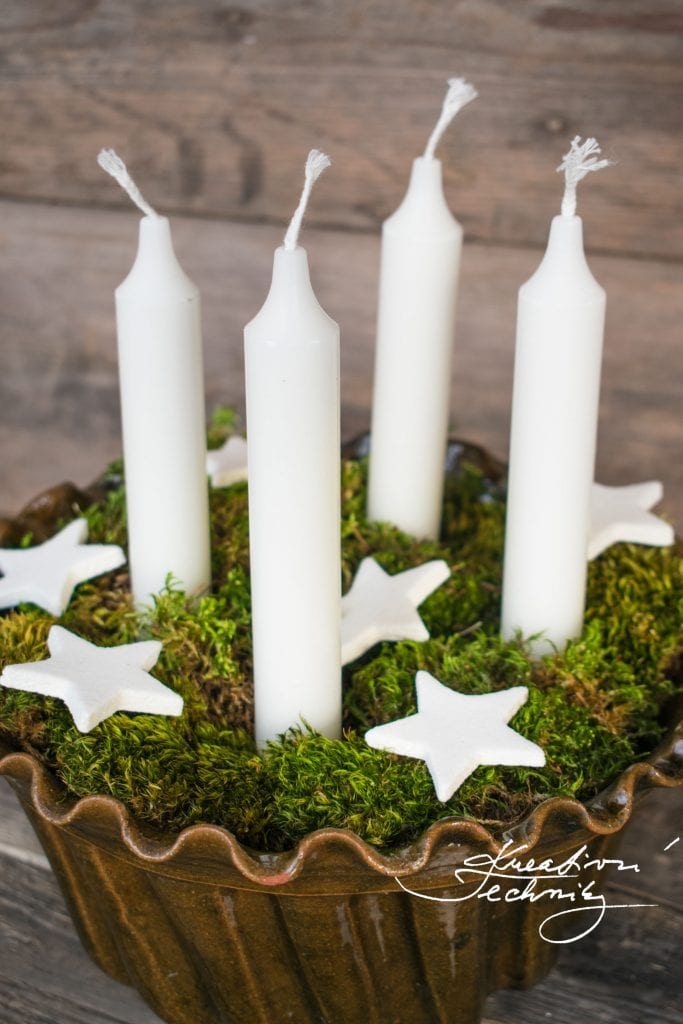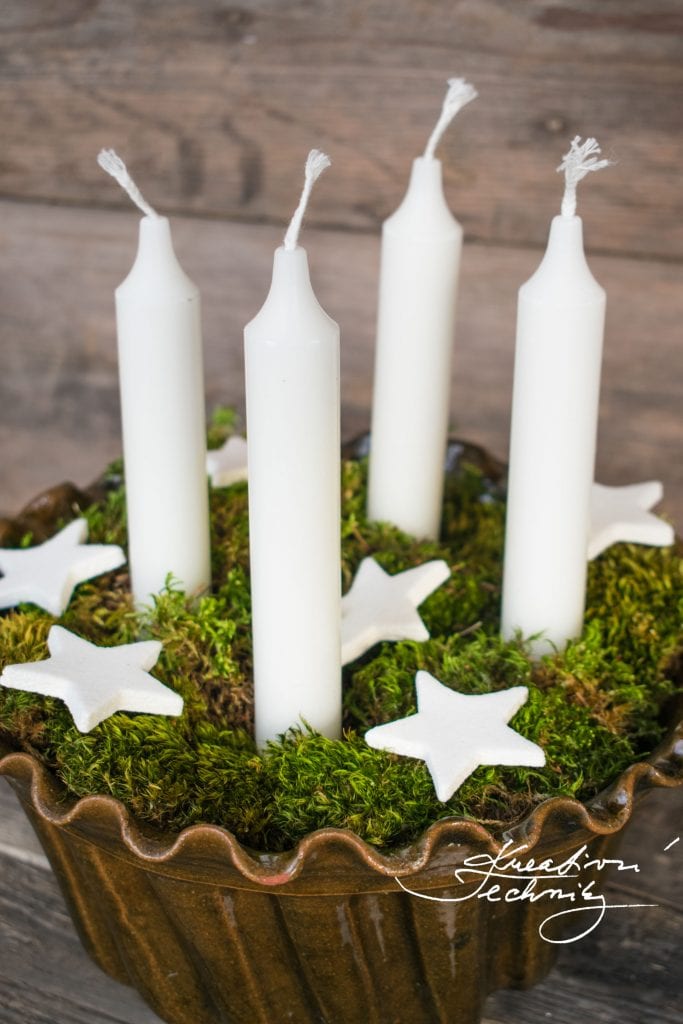 If we still have a little time, we can make beautiful white stars. The bright white matter used for their production is called cold porcelain. It is a self-hardening material made of common kitchen ingredients. You can find the tutorial for the production here. Cover the space around the candles with moss and decorate it with stars.
Advent wreath with orange peel stars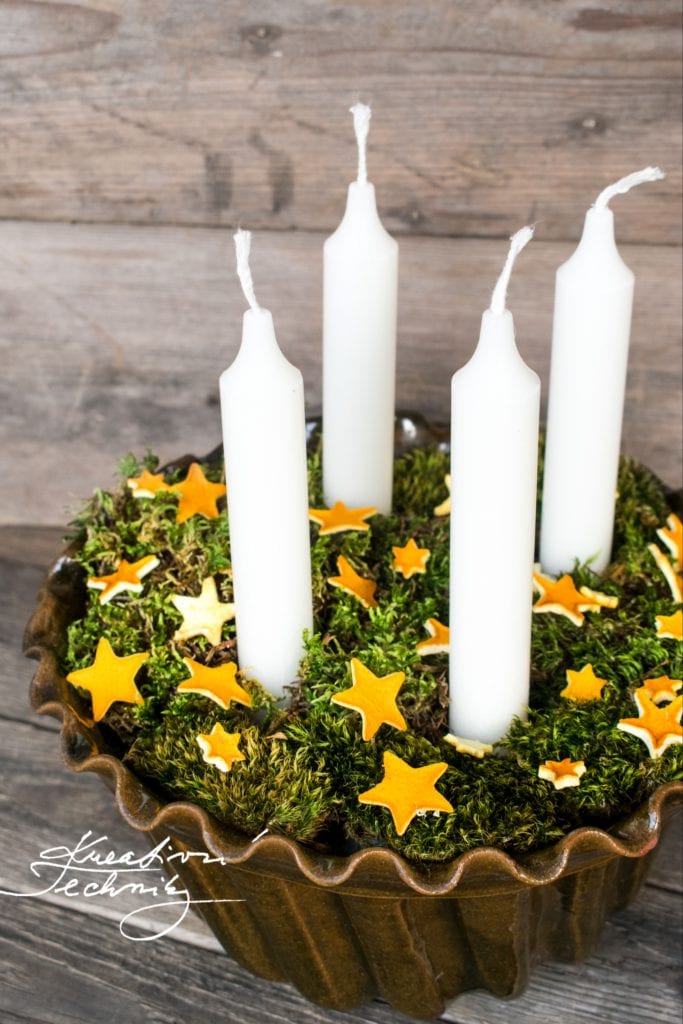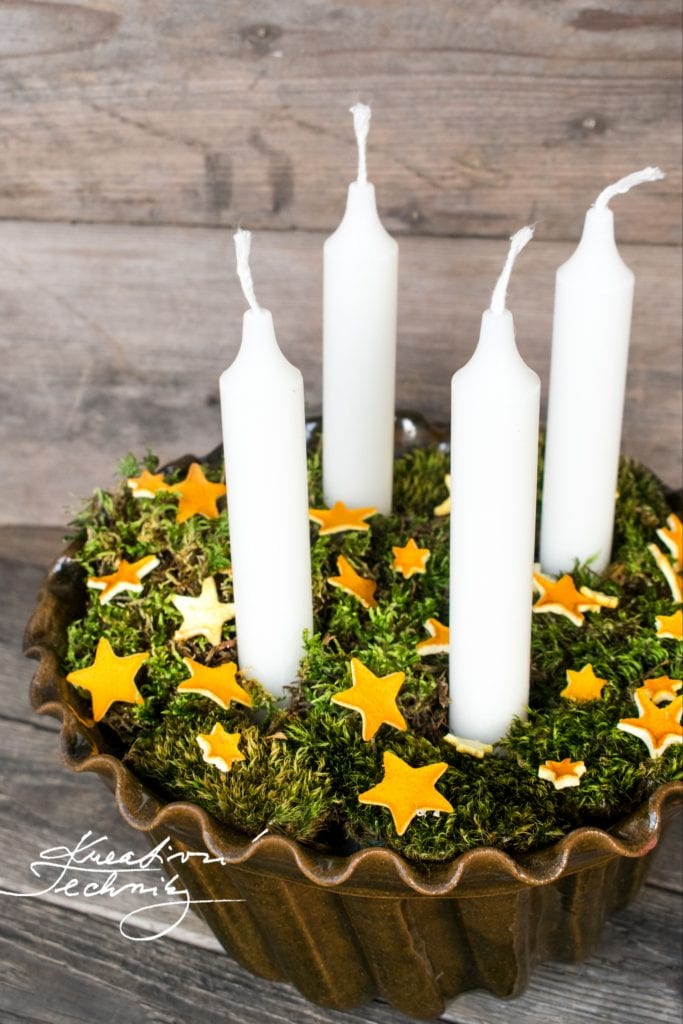 Decorate the candlestick base with moss and stars made of peel. However, these are produced much faster. Peel oranges and mandarins and cut out stars in several sizes using cookie cutters. If we have time, let them dry on a flat paper on a radiator overnight. If not, we arrange them directly onto the moss and dry them there. Maybe it will curl a little on the candlestick, but that doesn't matter. It is a natural decoration.
Advent wreath with moss and cones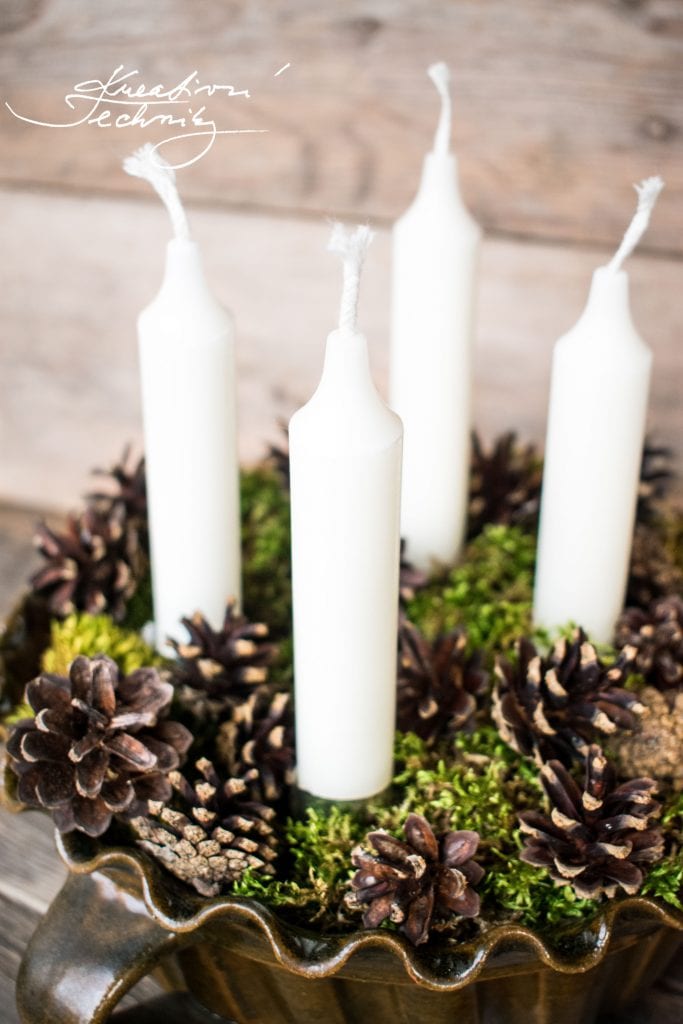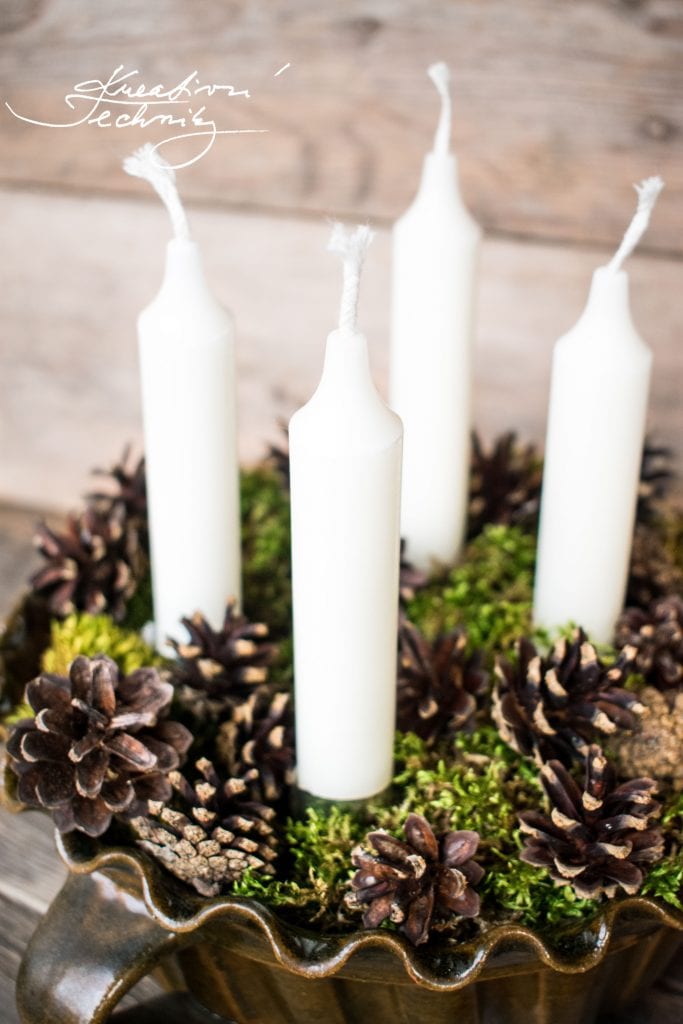 To cover the surface use moss again and add a few cones. You don't have moss? You can leave it out and decorate the wreath only with some cones. Even then, the decoration looks great.
Advent wreath with walnuts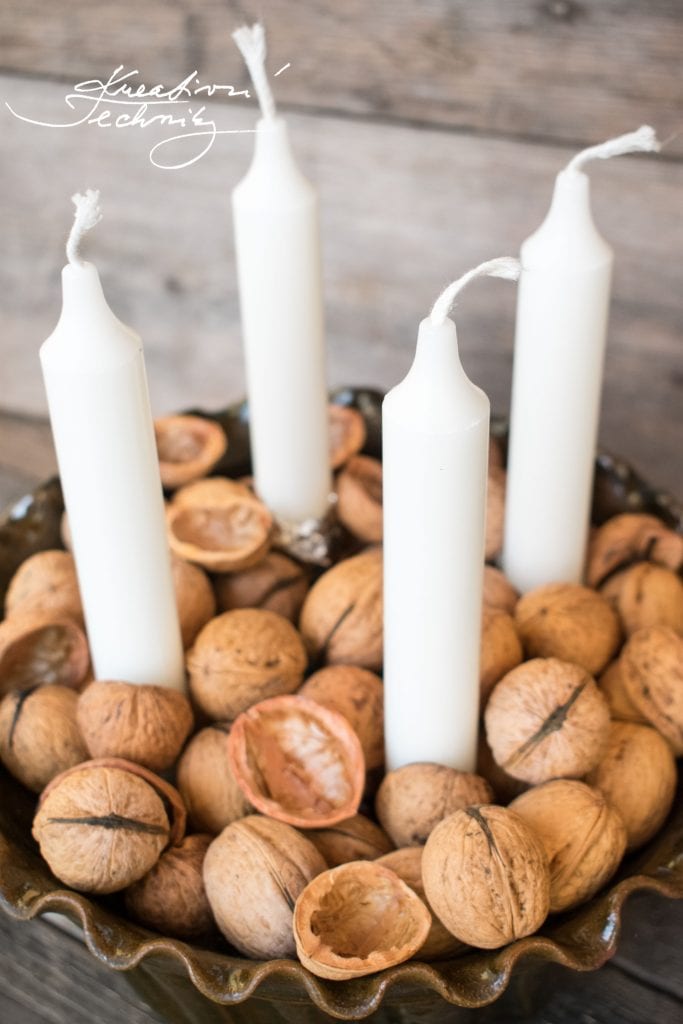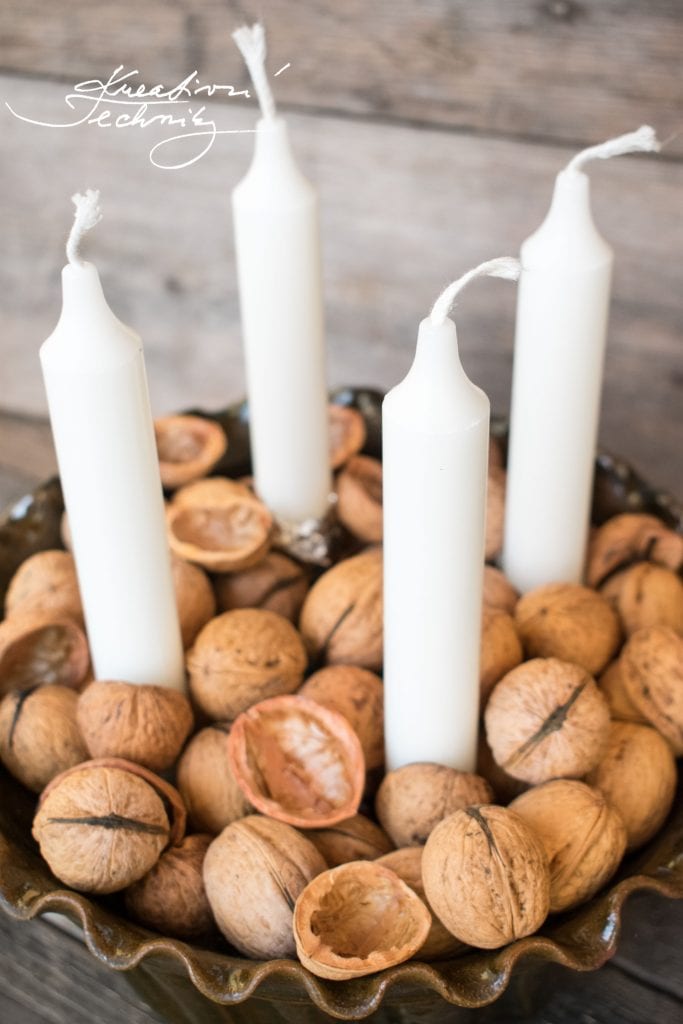 A super fast way to decorate your Advent wreath. Cover the base with walnuts, which you always have at home at Christmas. We will use the whole walnuts, we can even add empty shells.

We make aluminium foil candle cups to protect the candles from inflammable materials. However, we must still follow the safety rules and not leave lit candles unattended. We must never let them burn to the end. We must always extinguish them in time so that the fire does not come into contact with the decorations.
Get inspired by our tutorials and make beautiful Advent wreath. Advent Wreath Ideas and Christmas decorations and ornaments. 
You can also try our homemade Christmas recipes. For example, Christmas gingerbread or Christmas Linzer cookies.